Trampoline with D427cm safety net
Unit:
psc
Qty:
Partner in stock. Delivery 4-6 days
Delivery for 2-4 days in case of positive stock
Galvaniseeritud terasraam D427xH92cm. Raami äär D38x1,5mm - 8tk, W-jalg D38x1,2mm - 4tk. 88 vedru 177mm / 3,16mm. Hüppamismatt: must polüpropüleen (PP). Turvaäär: pealmine kiht: hall PVC kangas 330g/m², vahekiht 13mm polüetüleenvaht (EPE), alumine kiht polüetüleenkangas 110g/m² (PE). Turvavõrk: must polüestervõrk, kattuv ukseava. Kõrgus batuudi äärest 180cm, üldkõrgus 273cm. Võrgu postid 25,4x1,2mm - 16tk. Postide ümber vahtplastist pehmendused. Turvavõrgu ülemine äär kinnitub klaaskiust võru külge. Kaalupiirang 150kg. Toode on ilmastikukindel.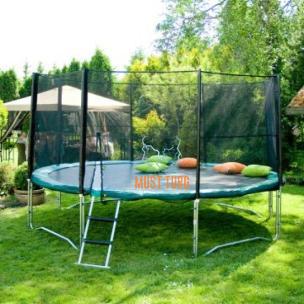 ,
Qty:
Partner in stock. Delivery 4-6 days
340,00 €