Street light with motion sensor solar panel 15W 1600lm IP65 Kobi
Brand:
KOBI
Unit:
psc
Qty:
Partner in stock. Delivery 4-6 days
Delivery for 2-4 days in case of positive stock
Price:
99,00 €
Kuumakse alates:
33,66 €
Innovatiivne juhtmevaba tänava ja hoovivalgusti. Ei vaja tööks toitekaablite paigaldamist. Töötab päikesepaneeli ja akudega. Valgustil on liikumisandur ja hämaraandur. Päevavalgusega laeb akud täis, pimedas töötab liikumisandurilt rakendudes. Valgusti on testitud meie regiooni kliimaoludes.
Tehniline info:
Juhtmevaba
Solar panel, päikesepaneel toide
Hämaraandur ja liikumise andur (3-8m, 120°)
Valgusvihk X-140°, valgusvihk Y-70°
7,4 V/5400 mAh Li-on aku, vahetatav
Võimsus 15 W
Valgusefektiivsus 1600 lm
Valgustemperatuur 4000K (päevavalgus) Neutral White
Tööiga 35000 h
Lülitusi 20000 x
Värvus - must
Laius 232 mm, pikkus 413 mm, paksus 58 mm
Kaasas kinnitusjalg
CE
IP65
A++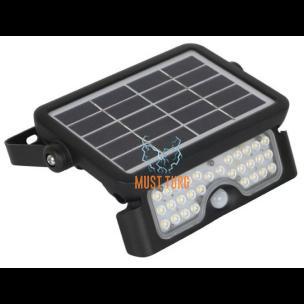 ,
Qty:
Partner in stock. Delivery 4-6 days
55,00 €