High beam X-Vision Genesis II 800 Spot beam with parking light 9-36V 130W 10100lm ref.50 4700K
Brand:
X-VISION
Unit:
psc
Qty:
Partner in stock. Delivery 4-6 days
Delivery for 2-4 days in case of positive stock
Mõõtmed: 790x72x92mm
Tüüp: Ref. 50
Pinge: 9-36V
Kirjeldus: 4700K, 12V: 10,89A (täisvõimsus), 1,44A (R112), 10100lm (täisvõimsus), 2300lm (R112), 1 lux @ 945m (täisvõimsus), 450m (R112), E-mark R10, R112
Kirjeldus: Genesis II 800 Spot beam on populaarse X-Vision Genesis seeria uus generatsioon. Selle seeria uustulnukad toovad uusi valgusvihu valikuid ning värske disaini. Genesis II seeria tuled on raamita, sirged tulepaneelid eredate Gemstone parktuledega. Uued väga pika vihuga (spot) paneelid toetavad tuntud laia ja hübriidvihuga mudelite valikut.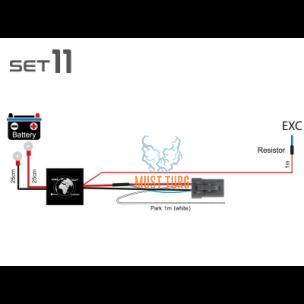 ,
Qty:
Partner in stock. Delivery 4-6 days
56,00 €