Coolant -37°C to +129°C 4L Prestone
Brand:
PRESTONE
Unit:
psc
Qty:
Partner in stock. Delivery 4-6 days
Delivery for 2-4 days in case of positive stock
Unikaalne Prestone OAT (Organic Acid Technology) tehnoloogial põhinev jahutusvedeliku valmissegu, mis sobib kasutamiseks 100% igat tüüpi sõidu- ja pakiautode jahutussüsteemides. Prestone jahutusvedelikku võib segada igat tüüpi jahutussüsteemis eelnevalt oleva jahutusvedelikuga, mis vastab standarditele VAG G12, G12+, G12++ ja G13 säilitades seejuures alati süsteemis eelnevalt olnud jahutusvedeliku värvi. Garanteeritud korrosioonikaitse 240 000 kilomeetri läbimiseks kuni 10 aasta jooksul. Tänu patenteeritud koostisele kaitseb see igat metallist ja muust materjalist jahutussüsteemi komponenti ka ekstreemsetes tingimustes temperatuurivahemikus -37°C kuni +129°C. Ei sisalda silikaate, fosfaate, boraate, nitraate ega amiine. Omab OE heakskiitu esmaseks jahutussüsteemi täitmiseks sellistelt tootjatelt nagu Ford, General Motors ja Toyota. Prestone jahutusvedelik vastab kõigile mootoritootjate poolt kehtestatud nõuetele. Omab DEKRA heakskiitu.
Vastab järgmistele standarditele: 
ASTM D3306, D4985
SAE J1034
BS 6580:2010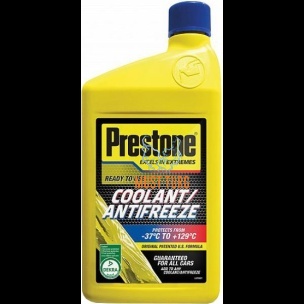 ,
Qty:
Partner in stock. Delivery 4-6 days
6,00 €