CB radio station PNI Escort HP62 with antenna 40 channels AM / FM power 4W
Brand:
PNI
Unit:
psc
Qty:
3
Delivery for 2-4 days in case of positive stock
Partneri laos puudumise korral tarneaeg 10-14 päeva!
Multifunktsionaalne valgustatud ekraan
Valgustatud ekraanil kuvatakse jaama praegune töörežiim: aktiivsed funktsioonid (EMG, LOCK, SC, DW), sagedusriba ja valitud kanalinumber, samuti vastuvõetud signaali tugevus ja edastatud signaal.
Kaasaskantav, väike
Nagu raadiosaatja, on ka CB PNI Escort HP 62 ülimalt taskukohane ja mugav kasutada oma väikese suuruse tõttu, ainult 73 x 35 x 92 mm - ilma toiteadapterita. Seega võite jaama paigutada käetoesse või mis tahes auto piiratud kohtadesse.
Mitu funktsiooni
Vaatamata väiksusele on PN 62 HP Escort varustatud enamiku CB-jaama jaoks vajalike funktsioonidega, rahuldades seega iga kasutaja vajadusi. Sellised funktsioonid nagu RF Gain (9 taset), SQ (28 taset), Scan, Squelch Auto (5 taset), Dual Watch või Viimase kanali tagasikutsumine muudavad jaama hõlpsasti kohandatavaks erinevate suhtlusvajadustega.
Ühenduvus: BNC-pistik, 2-kontaktiline pistik ja pesa PL259
CB PNI eskortjaam HP 62 on kahesuguse kasutusega: autos mobiiljaamana koos kerele kinnitatud antenniga ja väljaspool kaasaskantava jaamana, paigaldades BNC-antenni ja patareid (lisavarustus). Mikrofoni ja valjuhääldi ühendused võimaldavad teil ühendada 2-kontaktiga peakomplekti, millega saame vabakäerežiimis suhelda.
CB-antenn, diskreetne ja tõhus
Antenn PNI Extra 48 kuulub väikseimate CB-antennide hulka (ainult 45 cm kõrgune) ja seda saab paigaldada nii sõiduautodele kui ka kaubikutele või väikebussidele. Selle väike suurus muudab selle peaaegu monteerimata, segaduses raadioantenniga. Keskmine vastuvõtu kaugus on 10 km.
CB PNI Extra 48 antennil on spetsiaalne müravastane disain, mis võimaldab õhul kodara ümber libiseda, kõrvaldades tuulemüra, mis võib häirida suhtlust.
Raadiojaama üldised funktsioonid
Sagedus

26,965–27,405 MHz
Tundlikkus (10dB)

0,5 uV (AM) 0,25 uV (FM)
Mõõtmed (P x K x S / Kaal)

73 x 35 x 92 mm (ilma toiteadapterita) / 332 g (kaasas adapter)
ASQ - Squelchi automaat

Jah, 5 taset
RF võimendus

Jah, 9 taset
Mikrofoni võimendus

Täpsustamata
Hädaabikanali nupp 9/19

Jah
CRL - viimati valitud kanal

Jah
SQ - Squelch

Jah, 28 taset
Raadioantenni üldised funktsioonid
Rakendatud maksimaalne võimsus

150 W
Minimaalne SWR sagedusala keskel

vähem kui 1,2: 1
Pikkus

45 cm (kaasas magnetalus) Spikli pikkus: 44 cm
Magnetiline alus

103 x 66 x 40 mm
Mikrofoni klamberhoidja

Mitte
Juhtmega kaugjuhtimispult

Mitte
Väline vabakäemikrofon

Mitte
Laadija / tugi 8 laetavale patareile

Mitte
Toetus 6 laetavale patareile

Mitte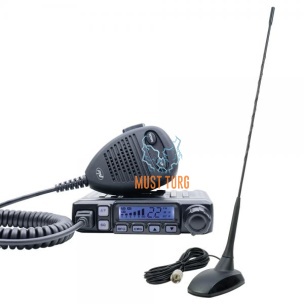 Partneri laos puudumise korral tarneaeg 10-14 päeva!
75,00 €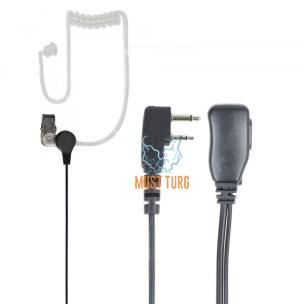 10,00 €