Thermometer wireless indoor and outdoor sensor 50m Kenner
Brand:
Kenner
Unit:
psc
Qty:
Partner in stock. Delivery 4-6 days
Delivery for 2-4 days in case of positive stock
Täpse digitaalnäidikuga sise ja välistermomeeter /elektrooniline kell koju, kontorisse või töökotta. Juhtmevaba ulatus- kuni 50m. MIN ja MAX temperatuurid salvestauvad mällu. Sisetemperatuuri mõõütevahemik 0c kuni +50c, välistemperatuuri mõõtevahemik -40c kuni +60c. Mõõtühikute valik Celsius või Fahrenheit. 12 ja 24 tunnine ajanäit. Kaasas klappalus lauale paigutamiseks.
Patareid 4X AAA (ei kuulu komplekti).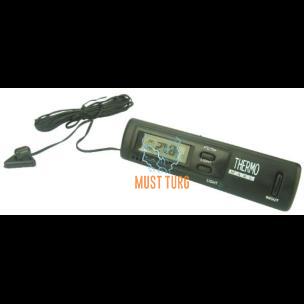 ,
Qty:
Partner in stock. Delivery 4-6 days
7,00 €