Set of spices for cocktails Sweet Floral Gin
Unit:
box
Qty:
Partner in stock. Delivery 4-6 days
Delivery for 2-4 days in case of positive stock
Price:
10,00 €
208,33 €/Kg
GINTONIC Botanical collection, sisaldab kolme vürtsikat maitsetaime, roosilehte, lagritsat ja kaneeli pulka.
Lisa oma Gin Tonic kokteilile uusi ja unikaalseid maitseid!
Koostis:
Roosilehed - Gin Tonic kokteili valmistamiseks-maitsestamiseks on palju erinevaid võimalusi,
kuid kõige värvikam ja loomingulisem on lisada roosilehti!
Lagrits - bukett palsamikust ja maalähedastest aroomidest. Ühe väikese lagritsapulgaga saavutad kerge magustatud maitse.
Kaneeli pulgad - lisa vaid üks pulk ja saavutad magus-hapu sidruni hämmastava maitse.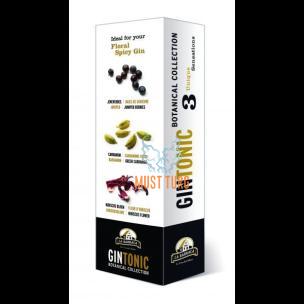 ,
Qty:
Partner in stock. Delivery 4-6 days
10,00 €