Set of spices for cocktails Floral Spicy Gin
Unit:
box
Qty:
Partner in stock. Delivery 4-6 days
Delivery for 2-4 days in case of positive stock
Price:
10,00 €
178,57 €/Kg
GINTONIC Botanical collection, sisaldab kolme vürtsikat maitsetaime.
Maitsesta oma Gin Tonic kokteili uute ja vürtsikate taimedega!
Koostis:
Kadakamarjad - võta 4-6 marja, pigista neid sõrmede vahel kergelt enne kokteilile lisamist, nii et marjadest väljuks õli.
Kokteil saab kergelt mõrkja maitse, mis on magusa nüansiga.
Kardemon - täiuslik aroom ja roheline värv on ideaalsed sinu Gin Tonic´ule.
Kardemoni pulber annab küll täiuslikuma aroomi, kuid seemnetega maitsestades säilitad kokteili elegantsuse!
Hibiskuse õied - annab punakas - ruske tooni sinu kokteilile. Hibiskuse õiel on kerge punase puuvilja maitse, kui tugev taime aroom!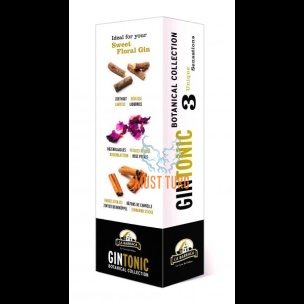 ,
Qty:
Partner in stock. Delivery 4-6 days
10,00 €